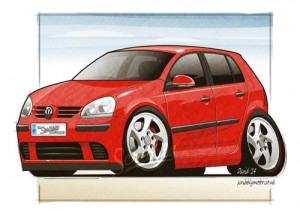 Back with a new look and a new website, Welcome to Scribbly Motor Company Mk iV! The first of the new generation Scribbly illustrations is for a young lad with a tidy VW Golf. What was cool is that his parent's had a very early Scribbly illustration of their wedding car as a wedding present way back in 1990. Makes me feel old! The conversation went a liitle like this:
Him: Do you still do those Scribbly car Illustrations?
Me: I haven't done one in a while but sure, Why not?
Him: Can you do my VW Golf?
Me: Of course. Would you like a set of Porsche alloys with that?
The result can be seen above, and here's a detail view…